All Aesthetic Mirror products are produced in our 20,000 ft2 factory, located in Los Angeles, California, USA. From hand-carved to hand-painted, our mirrors reflect years of experience in artisan-crafted carpentry and finishing. Recognized throughout the Hospitality and Design Industries as a leading manufacturer of wood, metal and acrylic decorative mirrors, artwork framing and custom art display fabrication.
100% domestically produced, our collections are highly coveted by interior designers, art consultants and purchasing agents, worldwide. In fact, you'll find custom, Aesthetic Mirror products in the guestrooms and public spaces of hotels around the globe. And because we maintain local control of your order's fabrication start to finish, you are always assured superior quality control and on-time shipment.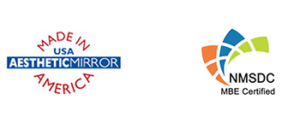 Manufacturing Capabilities
WOOD  |  MDF  |  ACRYLIC  |  METAL
Mirror Frames, Artwork Frames, Acrylic Display Cases & Pedestals: We can build anything from a sketch or design in any of the above materials, in any shape or size and in any desired finish. Or our design department can assist you.
With CNC Routers, we are capable of making complex cuts or 3D profiles constructed out of high-grade hardwood, plywood, MDF, acrylic sheets or blocks, laminates, phenolic foam and more.
With our metal-bending CNC equipment, our Master Fabricators can create custom, quality pieces to meet your specifications. We can bend and weld flat or round steel stock into circles, ovals, polygons or virtually any shape with rounded corners.
From acrylic sheets to acrylic block material, we can create any sized frame, piece of furniture, accessory, signage, display case, pedestal base, etc. All finely finished.
Paint, stain, Gold Leaf, Silver Leaf, custom colors, custom metals or custom material finishes that meet your specifications.
Laser Engraving & Cutting
Our CO2 lasers have the ability to cut and engrave all materials.
Our in-house design department can assist with concepts & renderings and provide prototypes where required. From a doodle or design; if you dream it, we can build it. 
Our Crating and Shipping Department ensures proper packaging for safe transport of your finished product, and arranges for shipping, if required.
How do I reach customer service?
For questions regarding the status of an order, stock availability, product sizes and styles or any other concern: call us at 323.666.3443, send us a fax 323.666.3743, or email us at [email protected].
Can I check on my purchase order by email?
Yes. For email inquiries on the status of your purchase order, please go to our PO Status menu and fill in the form.
How do I get pricing?
First, Log In. Creating a Log In is quick and easy. Then complete the Quote form found once you click on any product thumbnail. If you need pricing on multiple items, simply keep adding to your Quote Basket. Complete your quote request by confirming your information and clicking Submit Quote.You will receive pricing information within 24 hours.
Of course you can contact your sales rep or our office directly with any pricing questions as well.
Do you have minimum order requirements?
There are no minimum order restrictions. Order one, 100, or 1000 of any item and we will be happy to process your order. We offer trade and quantity discounts, too.
 
Do you ship overseas?
Our products ship all over the world. Our shipping department is experienced in the needed documentation for international shipments, ensuring problem-free receipt of your order.
How do I place an order?
Placing an order is convenient and easy. Just call, fax or email us:
By telephone: 323.666.3443
By fax (24 hours a day): 323.666.3743
By email: [email protected]
What if I have a freight claim or return?
Aesthetic Mirror guarantees your satisfaction. Please inspect your shipment as soon as it arrives, and if any items have become damaged due to shipping, report the problem immediately. Returns must be accompanied by an Aesthetic Mirror RMA (return merchandise authorization) number, which you will be given when you contact us regarding the damage.
What kind of shipping/crating do you offer?
You may request a specific carrier. If not specified, we will select the most favorable shipping and crating method for your job and your location. All orders are shipped F.O.B. Los Angeles, CA 90061.